Natural Resources Canada (NRCan) and the Government of British Columbia today announced $3 million in funding for two stations in a hydrogen station network for BC. HTEC is building the network to support the initial rollout of fuel cell electric vehicles.
The announcement took place at the future site of one of the stations: the 7-Eleven located on Westview Drive in North Vancouver.
Member of Parliament for Steveston—Richmond East, Joe Peschisolido, made the NRCan announcement on behalf of the Honourable Amarjeet Sohi, Canada's Minister of Natural Resources. Member of the Legislative Assembly, Bowinn Ma, announced the Province's contribution, and Victor Vrsnik from 7-Eleven Canada spoke to the company's partnership with HTEC and 7-Eleven Canada's commitment to environmental stewardship and meeting the evolving transportation needs of its customers. The Mayor of the City of North Vancouver, Linda Buchanan, was also in attendance.
Read NRCan's announcement here.
When the station opens in the next few months, hydrogen electric vehicles like the Toyota Mirai and Hyundai Nexo pictured here will be able to fill up on the North Shore. Left to right: Mark Vella (7-Eleven Canada), Linda Buchanan (Mayor, City of North Vancouver), Joe Peschisolido (Member of Parliament for Steveston–Richmond East), Colin Armstrong (HTEC), Bowinn Ma (Member of the Legislative Assembly for North Vancouver–Lonsdale), Victor Vrsnik (7-Eleven)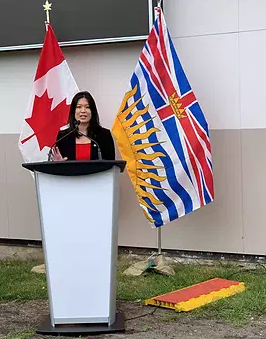 MLA Bowinn Ma announcing Provincial funding for two hydrogen stations.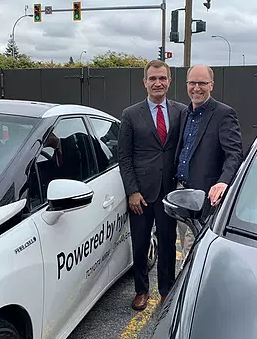 MP Joe Peschisolido with HTEC CEO, Colin Armstrong.