Check out our FAQs for some extra insight and information about hydrogen. Also visit our Hydrogen and FCEVs page for more information.
What is HTEC?
HTEC works across the clean hydrogen value chain, developing, integrating and operating clean hydrogen energy solutions in strategic North American markets to enable the transportation sector's transition to a low-carbon future.​
The company designed, built, owns and operates Canada's first hydrogen refueling station network. HTEC is also building multiple clean hydrogen production facilities while expanding the current station network and facilitating fleet transition to zero-emissions powered transportation in Canada and the US. These engineered solutions, packaged products along with strategic support are also provided to external customers.​
Is HTEC a public listed company?
HTEC is a privately held company and is not listed. 
What are the current career opportunities at HTEC?
How many stations does HTEC operate and where are they located?
HTEC currently has more than twenty stations at various stages of operations, development and planning in B.C., Alberta, Quebec, and the US. In B.C., HTEC has five stations in operation. Additionally, in Quebec, we operate one containerized station with more planned to open in the coming years. For further information on stations, kindly visit our Station Status page.
When and where will HTEC open its next station in BC?
HTEC currently operates five stations in B.C. and has more planned to open in the coming years. For opening dates and locations, please visit our 'News' page regularly.
When and where will HTEC open its next station in Quebec?
We are working towards opening multiple stations in Quebec. Specific opening dates will be announced shortly. For opening dates and locations, please visit our 'News' page regularly.
How much does hydrogen cost?
Just like every commodity, the price of hydrogen will vary by market. Here in BC, the retail price of hydrogen at the pump is $12.75 per kilogram, making it competitive with gasoline on a price per kilometre basis.
Where can I fill up with hydrogen in BC?
As of June 2023, five stations are open in HTEC's BC network. HTEC opened the stations in Vancouver and Burnaby in partnership with Shell, and the stations in North Vancouver, Victoria and Kelowna are in partnership with 7-Eleven Canada.
Doesn't making hydrogen cause pollution and use a lot of energy?
From well to wheels, hydrogen in a fuel cell electric vehicle (FCEV) is more energy efficient and cleaner than a combustion vehicle, including a hybrid. If renewable energy is used to make the hydrogen, carbon emissions can be reduced up to 90%. FCEVs are zero-emission at the tailpipe and reduce carbon monoxide, nitrogen oxides, particulate matter, and the organic compounds that contribute to smog.
This chart (using data from the Alternative Fuels Data Center (U.S. Department of Energy) and BC Hydro) shows vehicle greenhouse gas emission by fuel type.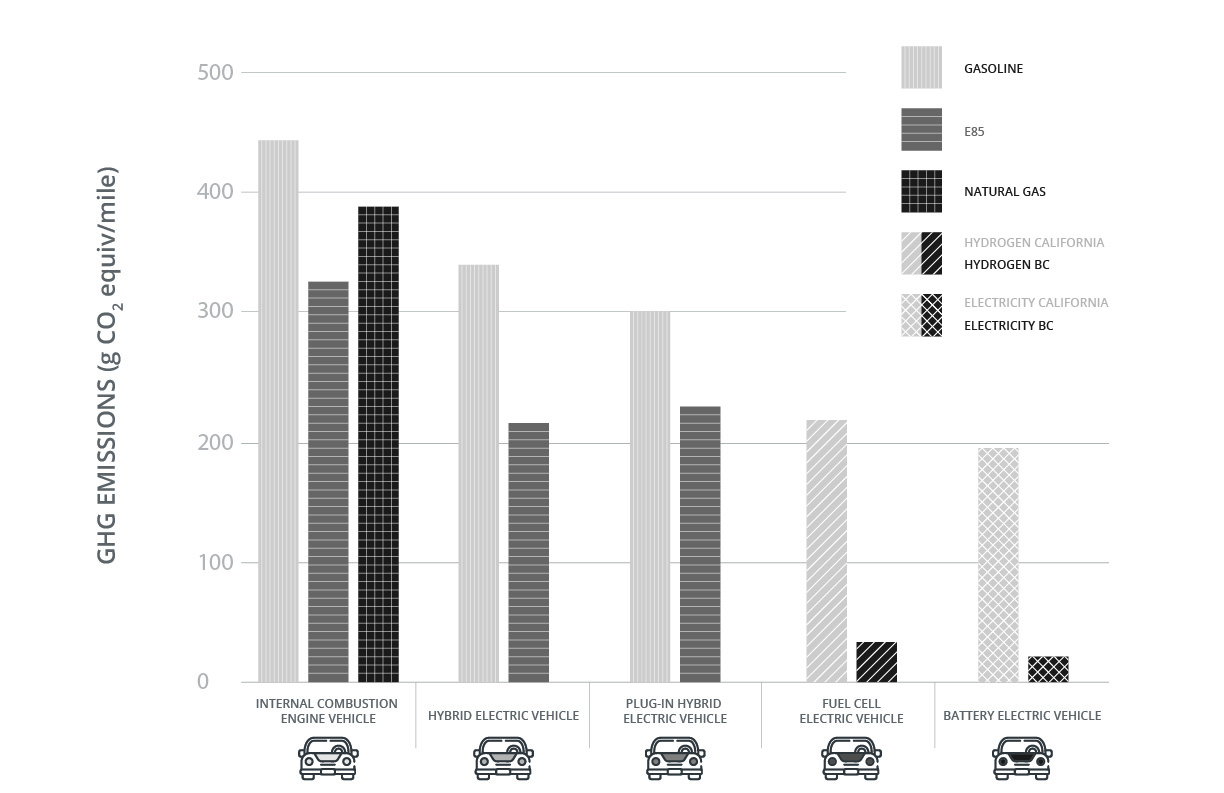 Where does the hydrogen come from for the BC station network?
Today, HTEC uses locally produced hydrogen made by electrolysis with electricity from the BC or Quebec grid. In the event this supply is unavailable, HTEC purchases hydrogen made from natural gas using steam methane reforming. HTEC is building multiple hydrogen production facilities in BC to make hydrogen via electrolysis using low carbon intensity hydroelectricity.
Hydrogen Fuel Cell Electric Vehicles
Where can I buy an FCEV in BC, and how much do they cost?
Currently, two hydrogen electric vehicle models are available to BC drivers: the Toyota Mirai and Hyundai's second-generation fuel cell SUV, the Nexo. Contact a dealer directly to talk about price.
What is the range of a hydrogen FCEV?
Vehicle range depends on the way the vehicle is driven. However, FCEVs on the market today average between 500 and 570 kilometres on a full tank of hydrogen.
How long does it take to refuel?
Filling up at a hydrogen station is fast, easy, and convenient — as simple as fueling up a car with gasoline. HTEC's station are self-serve, pay at the pump, and you drive away with more than 500 kms of range in under five minutes.
Are battery EVs better than hydrogen FCEVs?
There is no one-size-fits-all answer to help society in its transition to a low-carbon energy future. Hydrogen fuel cell electric vehicles will be part of a portfolio of transportation choices for consumers that include battery EVs, other low carbon fuels, and public transit. For consumers looking for long-distance range and rapid refueling at central service stations, hydrogen FCEVs are the answer.
Your Title Goes Here
Your content goes here. Edit or remove this text inline or in the module Content settings. You can also style every aspect of this content in the module Design settings and even apply custom CSS to this text in the module Advanced settings.
Are hydrogen stations safe?
Filling up at a hydrogen station is safe, fast, easy, and convenient — as simple as fueling up a car with gasoline. Hydrogen fueling stations are designed to global standards and are in operation in communities around the world, supporting thousands of hydrogen FCEVs.
Are hydrogen fuel cell electric vehicles safe?
Hydrogen FCEVs are as safe as any other vehicle on the road and have millions of miles of safe, on-road experience. Almost 10,500 Californians own or lease FCEVs and refuel safely every day at one of more than 45 hydrogen stations in operation across the state.