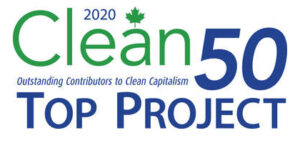 The retail hydrogen fueling network HTEC is building in British Columbia will fuel the first 1,000 FCEVs rolling onto BC roads in upcoming years
VANCOUVER, October 3, 2019 – HTEC Hydrogen Technology & Energy Corporation (HTEC) has received a 2020 Canada's Clean50 Top Project award in recognition of opening Canada's first retail hydrogen station and building a network of five more in British Columbia by 2020.
The Clean50 Top Project Awards are announced annually by Delta Management Group and the Canada's Clean50 organization, to recognize the 20-best sustainability-oriented projects completed in Canada over the prior two years.
"This award recognizes the efforts of the many—across industry and government—who are facilitating the development of business and policy in support of hydrogen's role in decarbonizing our world," says Colin Armstrong, HTEC's President & CEO. "HTEC couldn't lead the rollout of Canada's first network of hydrogen refueling stations without strong relationships and we thank all of our partners for their shared commitment in fueling the drive to hydrogen."
LGM Financial Services understood HTEC's vision and was an early sponsor of the network, moving the first station from concept to construction. Toyota, Hyundai, and Honda are working to put vehicles on the road, supporting HTEC's efforts to bring the network online in BC. And organizations like Shell have clearly committed to hydrogen as a transportation fuel, partnering with HTEC to build hydrogen capacity at existing fueling stations. Provincial and Federal Government support has also been key.
"Delta's criteria in determining Project awards is to consider carefully a combination of actual measurable impact, demonstrated innovation, and the project's ability to inspire others to imitate it," said Gavin Pitchford, CEO, Delta Management Group. "HTEC's Retail Hydrogen Network is a terrific example."
HTEC CEO, Colin Armstrong, will be amongst 120 past and incoming Clean50 Honourees meeting in Toronto on October 3, 2019, at the Clean50 Summit 9.0, spending a day amongst peers and colleagues tackling critical sustainability challenges facing Canada.
Read more about our win here, and explore other Clean50 Top Projects here.