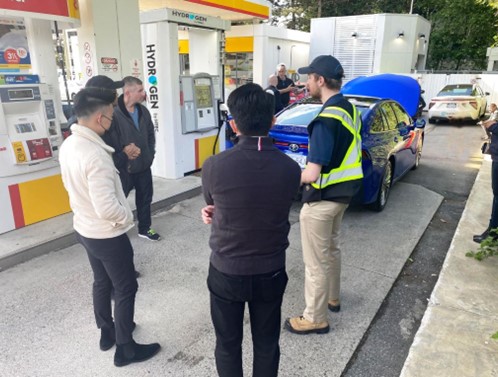 HTEC, Canada's leading clean hydrogen production, distribution, and dispensing solutions company, successfully conducted its first-of-a-kind on-site hydrogen fueling tutorial on Tuesday, 17 May 2022, in Burnaby, one of HTEC's four hydrogen refueling stations in B.C.
As the company which launched Canada's first hydrogen refueling station network, HTEC's tutorial was aimed at demonstrating the quick-and-simple way of fueling hydrogen-electric vehicles.
The success of this event demonstrated the growing enthusiasm and interest for hydrogen-electric vehicles in B.C. HTEC plans to organize similar interactive events in the future.
HTEC currently has 17 stations at various stages of operations, development and planning in B.C., Alberta, Quebec, and California. In B.C., HTEC has four stations in operation, three in late-stage development and two in early-stage development, for a total of nine stations soon to be open in B.C. We are working towards a summer 2022 opening of our Kelowna station.
About HTEC
HTEC is unlocking the potential of hydrogen to reduce climate change and air pollution.  The company designs, builds and operates hydrogen fuel supply solutions to support the deployment of hydrogen fuel cell electric vehicles. Partnering with government, industrial gas companies, key equipment suppliers, automotive companies, and energy companies, HTEC is delivering safe, reliable, convenient, sustainable and low-cost hydrogen to customers and consumers, how, when and where they need it.
HTEC: Fueling the Drive to Hydrogen. www.htec.ca
MEDIA
Audrey Marande
Communications Coordinator
amarande@htec.ca
604-904-0412